A great article from Courtney at Women Living Well Ministries…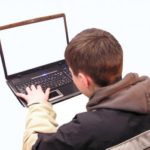 10 Ways to Protect Your Children On-Line
1. Be aware. If we don't protect them who will? It is our job as parents to know what our children are doing and to set boundaries. We need to monitor their video games, movies, television, apps, twitter, facebook, instagram, youtube, texting and the list goes on! This is a TALL task…I admit that already at the young age of my kids (8 and 10) I find it hard to monitor it all perfectly. We have to be vigilant and intentional – don't forget there is an enemy who wants us to not care or be naive –assuming our kids are fine and trustworthy.
2. Know Your Child. Is gossip their weakness? Watch their texting. Do they have a thirst for violence? Monitor their video games. Are they curious about the opposite sex – be on guard for porn. Are they lonely? Do not let them talk to strangers that could be predators. Each child will have their own unique struggles that will require guidance. That is our job – to impart knowledge and wisdom to our children – especially in their areas of weakness – don't forget there is an enemy who wants you to not care or be naive. (Oh! I think I already said that -but I needed to say it again).
3. Know your children's passwords so you can check in periodically.
4. Keep computers and i-products out of their bedrooms and in a common family area where you can oversee their activity on-line. Have all products charge in the kitchen or a main common room – away from their bedrooms at night.
5. Ask your children to show you their favorite games and things to do on-line. You might just learn something from them and you will get a view into their world. Play some of their on-line games with them. During our last family game night, we ditched the board games and played as a family – an iPad app called "Minecraft". The kids LOVED that we entered their world and played with them.
6. Join Facebook, Twitter, Instagram and all the places your teenagers hang out and check daily to see what your child is posting and who their friends are. Parent them through this maze of social media. I can't imagine all the immature things I would have posted when I was a teenager – I am SO glad this did not exist back then. Teach your children that what they post is permanent – words have consequences. Have your teens study the book of Proverbs – this book of wisdom will help them navigate relationships both on and off-line in a godly manner.
7. Warn them of dangers they would not imagine. Some children are trusting – they would not ever think of predators who could be waiting to harm them. Make them aware!
8. Teach them to think for themselves. We will not always be able to oversee our children's internet use. As they grow older, they will begin to use the internet at their friends house or the library or on their phones when we are not around. Train your child to have a godly conscience and a healthy fear of God – so they are convicted when they go outside the bounds on-line.
9. Pray over your children daily.
10. Prepare to be unpopular. If you set the above boundaries be prepared for some battles. It's easiest to have no boundaries at all. Don't go the easy route…*
Friends, if you are too busy to monitor your children's use of the internet…you are too busy. Period.
Read more of this article at Women Living Well Ministries.

Hey, let's stay connected:
Facebook: https://www.facebook.com/EducatingToday
Twitter: https://twitter.com/Educating_Today
Educating Today Newsletter: http://educatingtoday.com/parents_resource_guide/