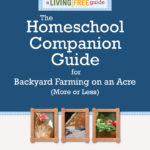 I had the great opportunity to interview Angela England, author of Backyard Farming on an Acre (More or Less) and the owner of UntrainedHousewives.com. Angela and her husband, Sidney, live inside the city limits on a quarter of an acre where they raise their five children and practice the same skills and techniques that she discusses in her wonderful book.
Gardening or Backyard Farming can be a wonderful learning experience for your whole family plus you reap the benefits of growing your own healthy, nutritious food. Having a family garden is almost a lost art, but thankfully, many families are making the choice to learn and experience the pleasure of digging in the dirt. It is also one of the best ways to grow your family's income by learning how to live a more self sufficient lifestyle.
The Back to the Land Movement is alive and well in all its varied forms. Maybe you live on a city lot too and you're wondering how in the world you could ever live a self sufficient lifestyle without owning any land; maybe you own ten acres or more and want to know how to make your land more productive or maybe you live in a rental house and you're trying to figure out how to make this house feel like a self sufficient home.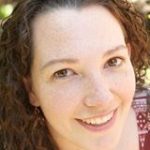 In her book, Angela says, "Backyard farming is about creating a healthier family, a healthier food system, and a healthier Earth for yourself and those who come after you…Everyone's journey into backyard farming is unique, and that's the beauty of it."
So without further ado, let's talk to Angela England about self sufficient living and backyard farming.
Angela, thanks so much for joining me on Educating Today to talk about your book, Backyard Farming on an Acre (More or Less).
1. There seems to be somewhat of a gardening revival going on today. A lot of people who never considered gardening before are now checking it out. Why do you think this is happening?
Angela: I think people are realizing that the "freedom" that comes from having someone else do it all for you is just a different kind of being tied down. You might not be tied to pulling the weeds out of your garden, but you're tied to earning a lot of money to pay for overpriced food. Or tied to trusting that everyone who handled, shipped, grew, raised, killed, and packaged your food before it got to your shopping cart did so in a healthy, legal, and respectful manner.
Many people are rediscovering the pride that comes from setting your hand to something so tangible. I believe we were created with a sense of wanting to accomplish and achieve. There's a miracle in seeing a seed turn into something that feeds your family and I think more and more people just want to be a part of that miracle.
2. I think you were raised as a city girl. As a young wife and mom, what gave you the idea to start your own backyard farm?
Angela: My husband was definitely a huge catalyst for me in our family's transformation. I don't think it's possible for two people to have such different upbringings but Sidney grew up with many of these skills as part of his every day life. Together we are learning to recapture these lost arts in a way that is more respectful of the earth and environment.
3. If someone wanted to start growing some of their family's food, but has never grown a thing in their life, what do you think is a good thing to start with?
Angela: I think it is important for people to start with something that is not only easy to grow, but something their family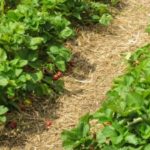 likes and enjoys. Understand of course that not everything grows well every year – but planting a handful of favorites – tomatoes, green beans, sunflowers, cucumbers, etc. Herbs are also great plants to start with – especially easy-to-grow herbs like thyme and sage.
4. Young families with small children may think they would like to start gardening or raising small animals, but they think their children are just too little and it would be impossible to make this happen. But you and Sidney have five young children. How do you find the time to successfully manage your backyard farm?
Angela: Every family has those routines they do together as a family. We just weave our together times into activities that contribute to our family – feeding the chickens doesn't take any more time than feeding a dog or taking care of a guinea pig. But chickens feed the family in addition to being entertaining pets. Likewise with gardening – there's not a lot of difference between random digging and pulling up weeds to a child but there's a difference to the family garden. Kids will naturally mimic adults so if you are willing to allow a little extra guidance and time with the kids, that will allow them to have a great sense of achievement in what they are helping the family do.
5. Besides teaching your children basic gardening and homesteading skills, what else do you think a gardening/homesteading lifestyle teaches children?
Angela: So many things! My kids already understand the value of hard work. They understand why it's important to take care of our environment because they see, in very real and tangible ways, how the health of the soil and cleanliness of the water affects our garden produce and animal's health. They know to treat animals with respect and kindness because the animals provide food for us. They don't take their food for granted because they understand the long-term effort that it takes to produce the food. They like to build. They like to think. They like to try new things. It's a joy to see them thrive and grow in this hand's on environment.
6. When planning your first garden, what are the top three things to consider?
1. Soil testing is a first step lots of people overlook. If you don't test your soil first you are likely to waste time and money on soil supplements you don't actually need.
2. Consider the location of your garden carefully for easy access to water, close by the house where you can keep an eye on it, and to provide plenty of sunshine.
3. Tap into local resources. Master Gardeners in your area can be invaluable for helping you discover heirloom varieties that thrive in your regional area, and participating in seed swaps and produce exchanges.
7. If someone wants to get started raising animals on their backyard farm, what do you think is the easiest to start with and why?
Angela: Chickens are by far one of the easiest animals to start with. They require very little room and do not need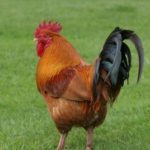 extraordinary amounts of feed. All in all I say that chickens are about the same daily time commitment as a dog. Without the need to house-train them!
Other easy-to-start with backyard livestock include rabbits, which can be kept indoors in the case of small backyards, and bees, which can take as little space as a balcony or rooftop.
8. You mention so many projects and crafts in your book. What was one of the first crafts that you tried when you were getting started?
Angela: The lavender wands were one of my very first. I still have the first lavender wand I made and it is still in good shape. The herb crafts are so fun because you end up with something tangible from all your efforts that can last for more than a simple dinner.
9. I know you like to keep a gardening journal. Can you share with us the benefits of doing a journal each year?
Angela: Keeping a garden journal helps you enhance your success and overcome your failures each year. You always have something you want to try next year. You won't always REMEMBER it. 😉 That's why I had gardening journal pages made exclusively for the book and offer them as a free download on the Backyard Farming Guide website.
10. How do you think your backyard gardening lifestyle has benefited your family the most?
Angela: It would have to be a toss-up for me between increased health and increased pride. I adore sitting down to a meal that we all made… knowing that the meat was grass fed and raised with respect; knowing that the fruits, vegetables, and herbs were grown organically and won't harm my family. Plus it's a lot of FUN!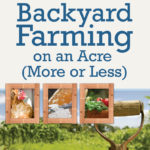 You can also get your own copy of the book on Amazon now.
Hey, let's stay connected:
Facebook: https://www.facebook.com/EducatingToday
Twitter: https://twitter.com/Educating_Today