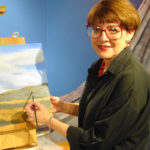 I have found a great Art Resource for adults and children.
And this would work great for homeschoolers.
Jamie Carter, a professional artist who lives in the Paris, Texas area has a free newsletter
that includes a great art lesson in every issue.
Jamie has been a professional painter for over 30 years.
She recently closed her local art gallery and studio, and is now teaching her classes
online.
She has been a friend to homeschoolers for years. Both of my sons took lessons
from Jamie.
Go to her web site at Art Lessons With Jamie. Just fill in your name and email
to sign up to get Jamie's next issue of her newsletter called "Living the Artistic Life.
Make sure you check your email for a message from Jamie and click the link in the email
to confirm that you want to get messages from her. Then you will get an email with a link
to your free report.
While you're at her web site, make sure you read her articles and her blog called "Sharing
The Artistic Life," and check out her store. She has great prices on her lessons and there will
be many more lessons to come.
Even though Jamie loves working with homeschoolers, most of her clients are adults
so you might find lessons that you would love to do yourself.
Her newsletter is a mini art curriculum all by itself. It's worth checking this out.