Growing a Family Garden
Like most families, you are always on the look-out for ways to build or grow your family's income and we'll be talking more and more about that on EducatingToday.com. But before you go looking for that second job or other resources, let's take a look at what you may already have available.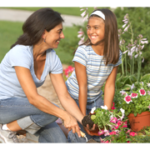 One of the best ways to teach kids responsibility and self-reliance, and at the same time help your family to become more self-sufficient, is to grow your own garden. It can be a small flower bed, an herb garden or a down-n-dirty vegetable garden (or all three). This is a great way for the family to work and learn together.
Kids learn best by "doing," and they love doing things with you. Include your children in your do-it-yourself projects.
One of the best parts of growing a garden is the planning stage. Order some free garden catalogs and let your family spend an afternoon or evening planning and dreaming about all the neat flowers, veggies and fruits they would like in the family garden.
The four basic steps to growing a garden are…
1. Pick a place for the garden. Let your children help decide where to build your garden. Make sure your garden gets plenty of sunlight and has access to water.
2. Plant your seeds. Prepare the soil. Dig small holes in the dirt, drop in a few seeds and then cover with dirt.
3. Water your plants. Make sure you put enough water on the garden to make the dirt damp, but don't use too much or you'll drown your plants.
4. Pick the fruits and vegetables. It's so much fun watching the plants peek through the soil. Once your plants start to grow, you'll get to harvest your own fruits and vegetables. Some you can rinse off with water and then eat right away, but others you will want to plan your menus using your fresh produce.
Now learn how to preserve your harvest. As you become more familiar with growing several varieties of plants, you'll want to investigate ways to preserve your harvest by learning how to can, freeze and dehydrate all that yummy produce that you're going to grow.
Remember to let your children help you in the kitchen, too. Good attitudes and skills are better caught than taught.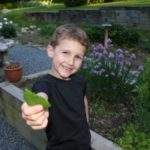 Leave a comment and let me know if you garden or hope to in the future. If you have any stories or interesting ways to teach gardening and cooking skills, tell us about it.
Let's stay connected:
Educating Today's Parent Resource Guide: Get your copy here.
Facebook:  https://www.facebook.com/EducatingToday
Twitter: https://twitter.com/educating_today