November 4, 2012 is a very important date for our family.
That's the date of my mother's 100th birthday. Woohoo!!
We're gonna have a party!

I was brought up in a small town and when someone is
interviewed by the local paper, they are a celebrity – a star.
Earlier this week the local newspaper interviewed Mom and
I've been thinking about all the stories she has to tell.
Being born in the 1950s, I have seen a lot of changes in prices, society
and technology. When I was a kid, I had a transistor radio and I thought
it was the coolest thing in the world. I could listen to the radio while I
drove my bike down the street and I rode my bike everywhere. Very cool!
But my mom was born in 1912.
Just think of all the changes she has experienced.
My mom and dad farmed for several years, but quit during the Depression.
They eventually owned and operated a restaurant for many years. When they
"retired" from the restaurant business, she became the pastry chef for other
restaurants and, through the years, she was affectionately known as "the donut lady."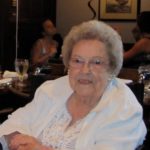 My mom is my hero. She has lived a life of integrity and faith.  She has stood for what she believes. Her husband, her children and grandchildren mean more to her than anything but her God.
A Birthday Prayer for Mom
Mom, I'm talking to the Lord today,
Asking Him to bless you in every way.
Your birthday is a heartfelt day for me,
Because you'll own my heart eternally.
Lord, please care for my sweet, loving mother,
Who gives so much; she's unlike any other.
Lord please give her happiness and more;
Love her, Lord; my mom, whom I adore.
Poem by Joanna Fuchs