I'm always on the lookout for quick and easy meals that are also healthy. Today's recipe is my version of oven baked round steak and boy-oh-boy did it turn out yummy.
Ingredients:
2 lbs. tenderized round steak
3 Tbs. oil
garlic powder, salt and pepper to taste
1 medium onion, sliced
6 oz. can tomato paste
1 1/2 cups water
1/2 tsp. salt
1/8 tsp. pepper
1/2 – 1 tsp. seasonings of your choice
1 cup frozen green pras
Cooking Procedure:
Cut steak into serving pieces, trimming off all extra fat.
Rub meat with garlic powder, salt and pepper.
Heat oil. Brown steak on both sides and place meat in a baking pan.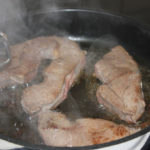 Drain excess fat from the skillet, and in the same skillet, heat tomato paste, water and seasonings. Add a bay leaf, if desired.
Arrange sliced onion over meat in the baking dish.
Pour the tomato mixture over the steak.
Bake covered at 350 degrees for 1 hour. Uncover steak and sprinkle the frozen green peas over the top of the steak. Replace cover and continue baking until tender.
Cover tightly and bake in a moderate 350 degree oven for a total of 1 1/2 – 2 hours under meat is fork-tender.
Additional Notes:
This recipe works very well for the crock pot, too. Cook on low              for 7-8 hours.
Add any seasonings that your family likes to the tomato mixture. I always add garlic, salt and pepper in addition to one or two choices of the following: Mrs. Dash Garlic & Herb, Italian seasoning or Grill Mates Montreal Steak seasoning.
I also used grass fed beef in this recipe and the meat was flavorful, moist and tender.
Leave a comment when you try this recipe and let me know what seasoning mix you used and how you liked it.
Let's stay connected:
Educating Today's Parent Resource Guide: Get your copy here.
Facebook:  https://www.facebook.com/EducatingToday
Twitter: https://twitter.com/educating_today