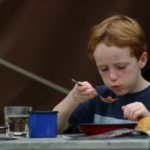 Planning our meals in advance is a great time saver for even the busiest families. You can plan healthy, yummy meals which means fewer trips to the drive thru and more meals at home. By learning how to plan meals, you will save time and help your family eat better.
By learning how to plan weekly meals and eating meals at home, you can spend less money, control your portions, and make food that is higher in healthy nutrients.
My family absolutely loves taco soup. It's one of those amazing comfort foods, but it is also a healthy meal that can be made in a few minutes.
Taco Soup
1# ground beef, turkey or venison
1 medium chopped onion
2 cans diced tomatoes
2 cans pinto beans, undrained
2 cans kidney beans, undrained
1-2 cans hominy or corn, optional
1-2 pkgs taco seasoning
1-2 pkgs ranch salad dressing powder
Add ½-1 can water to thin if needed
Brown the meat with chopped onion. Drain fat.
Add all other ingredients including juice from beans and hominy.
Heat through and then simmer for 20-30 minutes to blend flavors.
If unexpected guests arrive, you can add one extra can each of pinto beans and kidney beans to extend the recipe and it still tastes great.
Optional – top with a bit of grated cheese or sour cream when you serve.
Serve with tortilla chips, if desired.
This recipe freezes well and tastes wonderful when eaten as leftovers.
Hey, let's stay connected.
Educating Today's Parent Resource Guide: Get your copy here.
Facebook:  https://www.facebook.com/EducatingToday
Twitter: https://twitter.com/educating_today