Savory Greek Salad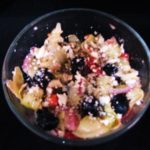 I'm always on the lookout for yummy, healthy recipes.
This week I came across a great recipe for a way to eat more raw veggies – Savory Greek Salad. Give it a try, because I bet you'll enjoy it as much as we did.
Ingredients:
1 medium/large chopped tomato
1 medium cucumber, peeled and chopped to bite-sized pieces
1 15 oz. can black olives, drained
1 15 oz. can artichoke hearts, drained and chopped
1 small/medium purple onion, slivered
Dash of oregano and basil
Feta cheese, to taste
Gently stir the above ingredients together.
Salad Dressing Ingredients:
Mix the following items together to suite your taste buds.
raw apple cider vinegar
extra virgin olive oil
pink salt
coarse black pepper
Tiny bit of Stevia (optional)
Gently toss the combined salad ingredients with the dressing.
Then lightly sprinkle more Feta cheese on top.
Cover salad and refrigerate for a couple of hours so flavors will blend before you serve it.
This makes a good sized bowl of salad and it will still taste great for at least 3 days.
This recipe is definitely a keeper.
The next time I make it, I think I will try making the dressing with fresh lemon juice, stevia, salt and pepper for a little different taste.
Hey, let's stay connected:
Join me at Educating Today:  http://educatingtoday.com/parents_resource_guide/
Facebook: https://www.facebook.com/EducatingToday
Twitter: https://twitter.com/Educating_Today
Participating in the Weekend Potluck Party at Frugal Family Favorites.