On Educating Today's Facebook page and blog, we've been talking about that one of the best ways to grow your family's income is to learn how to live a more self sufficient lifestyle.
Self reliant living can include all the areas of your family's life… housing, vehicles, clothing, entertainment, medical, education and feeding your family in an economical way.
Coming Back to the Land
The Back to the Land Movement is alive and well in all its varied forms. Maybe you live on a city lot and you're wondering how in the world you could ever live a self sufficient lifestyle without owning any land; maybe you own ten acres or more and want to know how to make your land more productive or maybe you live in a rental house and you're trying to figure out how to make this house feel like a self sufficient home.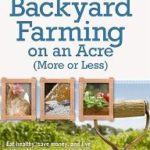 One of my favorite tools on learning how to live more self sufficiently is Angela England's book, Backyard Farming on an Acre (More or Less). Learning how to grow your own fruits and vegetables is a delightful way to stretch your family's income, improve your health and provide an abundance of projects, unit studies, and character training activities for your children.
Angela, her husband and five children live on a city lot smaller than ½ an acre where they successfully grow the majority of their fresh fruits and vegetables so she doesn't just talk about living a more self sufficient life, she does it.
In her book, Angela says, "Backyard farming is about creating a healthier family, a healthier food system, and a healthier Earth for yourself and those who come after you…Everyone's journey into backyard farming is unique, and that's the beauty of it."
Backyard Farming on an Acre (More or Less) discusses five main areas of preparing, growing, preserving and using the products that you grow on your backyard farm.
So What Will You Learn From This Book?
Part 1 explains about the backyard farming adventure from the growing  food crisis, the benefits of having a backyard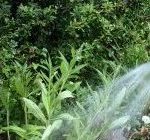 farm, costs and health considerations and whether or not you want to purchase land or use what you already have.
Part 2 is all about gardening on a back yard farm. She discusses what and how much to grow, what tools and skills you will need, how to garden "smart," and learning how to get the most from your garden. She also covers how to choose which vegetables to grow in your area, how to have a kitchen herb garden, deciding which fruits and berries to try, what are heirlooms plants and how to save your own seed.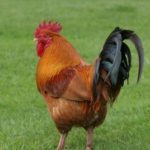 Part 3 tells you about keeping animals on a small scale backyard farm. Angela covers chickens, rabbits, sheep, goats and bee keeping. She also includes how to choose the breeds that are right for your family.
Part 4 is all about enjoying the bounty from management to preserving the harvest. There's a seasonal guide to manage your harvest and you'll learn how to preserve your bounty from canning and freezing, dehydrating and smoking, root cellars and basements, and preserving garden herbs.
Part 5 gives you some wonderful ideas for crafting from the backyard farm. You can learn how to make butter, yogurt and cheese. Discover how you can use animal fibers, how to brew cider and wine, learn ways to make your own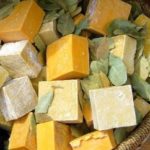 homemade soaps plus uncover the secrets of weaving, candle making, flower designs, plant-based dyes and many other projects.
It's very empowering to know that you have the skills and abilities to take care of your own family as well as help others. There is a problem with our current food system, but we can create the solution.
Ba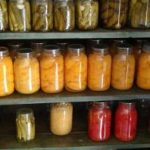 ckyard Farming on an Acre (More or Less) will show you how to create a bounty from whatever space   and situation you are in. Join the journey today and learn how to get it done.
You can get your copy of Backyard Farming on an Acre (More or Less) right now. I know you will love it.
I'm so excited. I'm going to be doing a blog interview with Angela England about her gardening philosophy and why she decided to write the book and I can't wait for you to read what she has to say.
Let's stay connected:
Facebook: https://www.facebook.com/EducatingToday
Twitter: https://twitter.com/Educating_Today
Newsletter: http://educatingtoday.com/parents_resource_guide/