A great article from Matt Walsh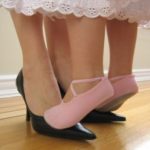 It's happened twice in a week, and they were both women. Anyone ought to have more class than this, but women — especially women — should damn well know better.
Last week, I was at the pharmacy and a friendly lady approached me.
"Matt! How are those little ones doing?"
"Great! They're doing very well, thanks for asking."
"Good to hear. How 'bout your wife? Is she back at work yet?"
"Well she's working hard at home, taking care of the kids. But she's not going back into the workforce, if that's what you mean."
"Oh fun! That must be nice!"
"Fun? It's a lot of hard work. Rewarding, yes. Fun? Not always."
This one wasn't in-your-face. It was only quietly presumptuous and subversively condescending.
The next incident occurred today at the coffee shop. It started in similar fashion; a friendly exchange about how things are coming along with the babies. The conversation quickly derailed when the woman hit me with this:
"So is your wife staying at home permanently?"
"Permanently? Well, for the foreseeable future she will be raising the kids full time, yes."
"Yeah, mine is 14 now. But I've had a career the whole time as well. I can't imagine being a stay at home mom. I would get so antsy. [Giggles] What does she DO all day?"
"Oh, just absolutely everything. What do you do all day?"
"…Me? Ha! I WORK!"
"My wife never stops working. Meanwhile, it's the middle of the afternoon and we're both at a coffee shop. I'm sure my wife would love to have time to sit down and drink a coffee. It's nice to get a break, isn't it?"
The conversation ended less amicably than it began.
Look, I don't cast aspersions on women who work outside of the home. I understand that many of them are forced into it because they are single mothers, or because one income simply isn't enough to meet the financial needs of their family. Or they just choose to work because that's what they want to do. Fine. I also understand that most "professional" women aren't rude, pompous and smug, like the two I met recently.
But I don't want to sing Kumbaya right now. I want to kick our backwards, materialistic society in the shins and say, "GET YOUR FREAKING HEAD ON STRAIGHT, SOCIETY."
This conversation shouldn't be necessary. I shouldn't need to explain why it's insane for anyone — particularly other women — to have such contempt and hostility for "stay at home" mothers. Are we really so shallow? Are we really so confused? Are we really the first culture in the history of mankind to fail to grasp the glory and seriousness of motherhood? The pagans deified Maternity and turned it into a goddess. We've gone the other direction; we treat it like a disease or an obstacle.
The people who completely immerse themselves in the tiring, thankless, profoundly important job of raising children ought to be put on a pedestal. We ought to revere them and admire them like we admire rocket scientists and war heroes. These women are doing something beautiful and complicated and challenging and terrifying and painful and joyous and essential. Whatever they are doing, they ARE doing something, and our civilization DEPENDS on them doing it well. Who else can say such a thing? What other job carries with it such consequences?
It's true — being a mom isn't a "job." A job is something you do for part of the day and then stop doing. You get a paycheck. You have unions and benefits and break rooms. I've had many jobs; it's nothing spectacular or mystical. I don't quite understand why we've elevated "the workforce" to this hallowed status. Where do we get our idea of it? The Communist Manifesto? Having a job is necessary for some — it is for me — but it isn't liberating or empowering. Whatever your job is — you are expendable. You are a number. You are a calculation. You are a servant. You can be replaced, and you will be replaced eventually. Am I being harsh? …
Read more of this article at Matt Walsh's blog.
Hey, let's stay connected:
Facebook: https://www.facebook.com/EducatingToday
Twitter: https://twitter.com/Educating_Today
Educating Today Newsletter: http://educatingtoday.com/parents_resource_guide/