I try to use "green" products whenever I can. When we use regular cleaning products, we are actually bringing irritants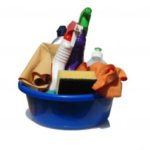 into our homes. With all the unpronounceable chemical names listed on these products, it really makes me question what health problems these may cause, especially as the fumes and residue build up over time.
How to Know If a Product Is Unhealthy
We all know someone who has difficulties being around regular cleaning products – problems breathing, burning eyes, rashes, etc. Even if you think these products don't affect you, if they're strong enough to bother others, you know the product is not healthy. When these products are rinsed down the drain or thrown in the trash, they then cause problems for the earth's eco-systems.
It's important that we teach our children to take responsibility for themselves, but it's just as important to teach them to be responsible for their environment.
Old Fashioned Remedies
Over the years many home cleaning tips have been passed down from generation to generation. Because of sales and marketing techniques used by today's cleaning product manufacturers, many of the wonderful and healthy cleaning remedies have been dismissed as old fashioned. However, these remedies worked great for our grandmothers and they'll work for us too. Some of the best cleaning products that every home had were vinegar, baking soda, lemons, borax and pure soap flakes. It's easy to do some research to find out how Grandma used these items effectively.
Cleaning Your Tub and Shower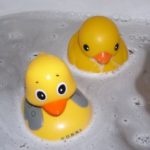 I've found that the easiest and best time-saving way to clean my bathtub is to wipe down the tub/shower while I'm taking a shower. After taking your shower and while the water is still running, simply take a soapy cloth and wipe down the sides of your tub and shower. Then direct the water spray to give the surfaces a quick rinse. Doing this several times a week will yield a squeaky clean rub and shower without taking extra time or using questionable cleaning products.
Introducing children to these "old fashioned cleaning remedies" and the reason behind them, will teach our kiddos and ourselves some valuable lessons.
Let's stay connected.
Educating Today's Parent Resource Guide: Get your copy here.
Facebook:  https://www.facebook.com/EducatingToday
Twitter: https://twitter.com/educating_today