The 12 Things I Learned From My Mom
My mom was known as the "Donut Lady" in our hometown of Rugby, North Dakota.  Just about everybody loves donuts, and our local community, family and friends loved her special touch.
She lived to be 100 years old, just a few months short of her 101st birthday, and she was a treasure. She had such a joyful spirit and loved being silly and having fun. She was a strong willed woman and I've been told she passed that trait on to me. lol
My mom was known as "the donut lady"  because she loved blessing others with her homemade donuts. I learned so much from her by just watching how she lived her life and treasured her family and friends.
What She Taught Me
1. Take care of what you have. Don't live a disposable life.
2. Life's circumstances change. Nothing stays the same but you can choose to be happy and content whatever the circumstances.
3. Cherish your spouse. Be grateful for every day
you have with them.
4. Love your children and grandchildren. They are a gift from Almighty God.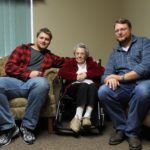 5. Believe your children are special and, with God's help, they will make a difference in this world.
6. Let people know that you love them and look for ways to show them that you do.
7. Stand on your own two feet and deal with your problems.
8. Don't take other people for granted.
9. When you feel lead to pray for someone, do it.
10. Be best friends with your siblings. Life is too short to fuss with each other.
11. Be a good grandma and think your grandchildren are the smartest, sweetest, cuddliest kids in the whole world, because they are.
12. Freely share your faith in Jesus Christ with others and lead others to Him.
My mom went to be with her Lord Jesus September 16, 2013, and I miss her terribly. She lived in Minnesota and I live in Texas so we didn't get to see each other very often, but, oh, I loved her so much. So this is another year of not sending the extra special Mother's Day card that I found just for her; of not sending her a bright, colorful flower arrangement of carnations because those were her favorite, and another year of not hearing her sweet, sweet voice on the phone.
I love you, Mom, and I am forever grateful for your love, your compassion, and your strength.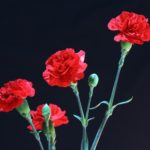 Proverbs 31: 28-30 Her children arise and call her blessed; her husband also, and he praises her: Many women do noble things, but you surpass them all. Charm is deceptive, and beauty is fleeting; but a woman who fears the LORD is to be praised.
Join Me on Facebook: https://www.facebook.com/EducatingToday
Twitter: https://twitter.com/Educating_Today
And stay in touch by joining my newsletter at http://educatingtoday.com/parents_resource_guide/