The Unit Study Learning Approach
There are several different approaches for teaching your children to be productive, educated learners. Today we're going to find out more about the Unit Study Approach.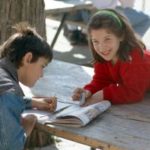 A Unit Study  takes one topic or unit of study and combines different subjects to revolve around and tie into that topic. It can include language arts, science, history, geography, math and fine arts. Instead of studying several unrelated subjects, all subjects are included in a common theme or project.
There are three main options for doing this type of approach:
1. You can purchase a complete unit study.
2. You can use a prepared topical guide.
3. You can create your own unit of study from scratch.
There are no set rules for doing a unit study. They can be planned for a long range study such as a complete yearly unit study or they can be shortened by using a topical study guide. Most subjects are covered by studying one topic at a time and study materials usually involve the reading of books. The unit studies approach usually includes several hands-on activities.
Questions to ask yourself:
1. Are you a fairly creative person or do you like everything laid out for you?
2. Is it important for you to try to make learning interesting and fun or are you interested in just completing the assigned projects and assignments?
3. Do your children have a variety of interests and different learning styles?
4. Do you have the desire to be the creative force behind the development of the unit studies?
What are the strengths of the unit study approach?
• The unit study approach allows for a more in-depth study and greater understand of a topic.
• Because of its hands-on approach and the reading of real books, children can retain and apply what they have learned.
• This approach helps to develop curiosity and independent thinking.
• Unit studies are fairly easy to create and all ages can learn together.
What are the weaknesses of the unit study approach?
• Do-it-yourself unit studies require teacher planning time.
• Prepared unit study curricula can be expensive.
• Teacher may feel uncertainty that all subjects are being covered.
• If you're used to giving grades, it may seem harder to track accomplishments.
You'll discover that every teaching approach has its strengths and weaknesses. The key is discovering which approach fits best with your family's lifestyle and will help you and your family to stay focused and consistent.
*Discover more about Choosing the Best Learning Approach For Your Family.
Resources:
How To Create Your Own Unit Study – Valerie Bendt
Success With Unit Studies – Valerie Bendt
How To Use The Konos Curriculum – Jessica Hulcy
Amanda Bennett Unit Studies
– Olympics: History, Geography, & Sports
– American Government Unit Study
– Thanksgiving: Prayer, Pilgrims, & Native Americans
– Oceans: Sea Life, Exploration, & World Geography
– Gardens Unit Study CD-ROM
– Patriotic Holidays: A Unit Study Guide To American Celebrations
– Gardens: History, Gardening, & Plant Science
– Electricity: Science, Energy, and Inventions
– Home: Construction, Architecture & Home Economics
– Horses Unit Study
Guides to History Plus (Design-A-Study) – Kathryn Stout
Konos Unit Studies – Jessica Hulcy
– Konos History Of World Volume 1 -The Ancient World
– Electing America's Leaders (Konos character curriculum)
– Konos Character Curriculum : Volume II
The Prairie Primer: Literature Based Unit Studies Utilizing the "Little House" Series
– Margie Gray
Horses (A One Week Off Unit Study) – Castle Heights Press
Reference: The Elijah Company Catalog
Click on this link to discover other creative learning approaches.
Let's stay connected:
Facebook: https://www.facebook.com/EducatingToday
Twitter: https://twitter.com/Educating_Today
Newsletter: http://educatingtoday.com/parents_resource_guide/