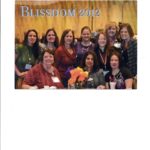 What a Homeschool Mom Learned At Blissdom 2012!
Blissdom 2012 was a conference all about blogging for business. What an incredible group of people! I thought I'd feel like a fish out of water since I'm a retired (oops! I mean "experienced") home school mom and not a professional blogger. But I was wrong. I was welcomed with open arms.
The ladies in this picture are all homeschool blogger moms which means they are all homeschool moms, but they blog about everything under the sun, and it was so much fun meeting each and every one of them.
The conference was held at the Opryland Hotel in Nashville. My sweet daughter-in-law invited me to join her and some of her friends. The Opryland Hotel is absolutely gorgeous. The "living landscape" inside the hotel made me feel like I was in the Garden of Eden. Talk about having a green thumb!
Our conference days were divided into four main conference sessions of which we had our choice: Business, Writing, Life Development and Photography. Boy, it was really hard to choose which session to go to.  We listened to discussions on:
How To Think Like An Entrepreneur
Legal Confidence
Ignite the Sparks of Passion With the Fuel of Purpose
Branding You
Women, Influence and the Social Web
Those were just the business sessions. There were incredible sessions going on at the same times in the other three conference sessions of Writing, Life Development and Photography. See what I mean… hard to choose what to go to.
We got to see some great entertainment in the evenings. I met the Lorax (really, I did…what do you mean he's not real?) And I actually had my picture taken with Chris Mann, one of the contestants on The Voice. That guys voice is "wunderbar."