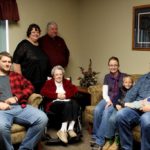 I just returned home from our family's trip
to Minnesota. We joined other family and friends
who gathered to help my mom celebrate her 100th birthday.
Yup, my mom is a centenarian! How cool is that!
It was so, so good to see Mom and give her bunches of hugs and kisses. Oh, how I love her!I love living in Texas, but I'm sad that I live so far away from my mom and sister.
The Local Paper
The local paper, the Frazee-Vergas Forum, wrote a front page article about Mom's birthday and it was such fun reading about the things she recalled doing as a child. Throughout each story that she told the reporter, one theme kept popping up…it's people that make life fun and interesting.
When she told about riding the train from Canada to North Dakota when she was 10 years old, she said the reason that it didn't seem like a long ride was because there were a lot of people to visit with.
When she was old enough, she babysat children and helped neighbors with their housework. She said it was great fun meeting and visiting with other people.
Through the years, she and my dad farmed and owned a couple of different restaurants.They were hard workers and when you own your own business, you have a lot of different jobs to do. She said even though it was hard work, it was fun, and what she enjoyed the most were the people.
Do you see a repeating theme here? Throughout the hard work and long hours, her relationships with people were the most important to her.
The Card Party
One of the special things we did for Mom's birthday was to have a card party. My mom has a list of people on her Christmas card list; every year she sends cards to family and friends. This year for her birthday, we sent an invitation to everyone on her list and put an announcement in our hometown paper, inviting people who know Mom to send her a birthday card.It was great fun to read all the sweet notes from family, friends and business acquaintances from long ago.
What Did I Learn From Reading Their Notes?
take time to be a friend who truly listens
it's the little things in life that are important. People that worked for my parent's many years ago, took the time to write a note in their card thanking Mom for taking the time to teach them how to make change, how to mix up pancake batter correctly, how to take their customer's orders correctly, how to make donuts and roll out pie crust, how to treat their customers respectfully, how to clean up after themselves,etc.
These folks remembered the little things she had done for them many years ago.
I thank the Lord for a mom who lived a life loving others and I pray that
I will follow in her steps.
Happy Birthday, Mom!