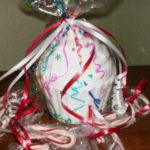 I had the best time visiting with the Listening and Learning Seeds group this week. I spoke at their December meeting and got to spend time with some great ladies, and I even got a ceramic cupcake overflowing with candy canes. Yum! You can learn more about their group at https://www.facebook.com/groups/405225092829773/?ref=ts&fref=ts.
We discussed every family's need to have more than one income for their family. Every family needs to develop Multiple Streams of Income.
Why Do All Families Need Several Streams of Income
1. Raising children is expensive. Financial needs come up all the time that we weren't expecting…group or private lessons, instruments, illnesses, special needs, etc.
2. You know, life happens. An emergency doesn't normally give a warning before it happens and things happen to everyone. It's so much better to be financially prepared.
3. All families have special occasions and those occasions are so much more enjoyable if you have some funds set aside. This fall my whole family drove from Texas to Minnesota to help my mother celebrate her 100th birthday. What a blessing that was to spend time with Mom and my sister's family. I'm so glad we were able to go.
4. With today's economy, no one is able to totally trust their job situation. Every family needs a backup plan.
5. Don't plan on others to take care of you. You can do this.
Do you know that God even talks about having multiple streams of income?
Ecclesiastes 11:2: – Divide your portion to seven, or even to eight, for you do not know what misfortune may occur on the earth.
We'll be talking more about how to develop several income streams in my newsletter, "Growing Creative, Responsible Families." Sign up here to join us and find out more.