Resurrection Day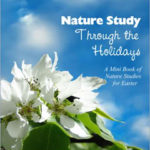 Easter (my family calls it Resurrection Day) is one of my favorite times of year. I love the spring time and I treasure the unending love and "renewing" that Jesus gives each of us who have asked Him to be our personal Savior.
As Christians, it is a wonderful time of remembering the ultimate sacrifice that Jesus did for all of us… dying for us so we can be resurrected with Him.
I've found a wonderful and unique, Christ-centered nature study guide that ties into the Biblical account of Jesus' final week, including His death, burial and resurrection.
This is an e-book so you will be able to download it right away.
It covers Palm Sunday through the Resurrection and is 32 pages long. It includes Bible readings, songs of praise, literature selections and creative nature walks.
I think it's a great mini-unit study to do this time of year to help you and children worship and study together and it's only $5.