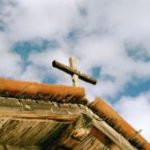 One of the best ways to teach your kids about commitment, responsibility and unselfish love is to get them reading or listening to the autobiographies/biographies of past and present missionaries.
These men and women lived (or are living) lives of dedication and vision, with wonderful and daring adventure stories that show your children the Hand of God at work in the lives of His people. These stories are terrific teachers that help your children to see that truly God does work in the lives of every day people just like them.
Some of our family's favorite stories are the books about Jim Elliot, Elizabeth Elliot, Nate Saint and Steve Saint. Jim Elliot was a missionary to the country of Ecuador where he and his crew were killed by the Waodani tribe. Nate Saint was their pilot and he was also killed.
Steve Saint, Nate Saint's son, tells the story of his father and his fellow missionaries better than anyone I know and you can follow him on Facebook.
Here's a List of Books and DVDs  To Get You Started:
Heroes of the Faith: Jim Elliot
Let's stay connected:
Facebook: https://www.facebook.com/EducatingToday
Twitter: https://twitter.com/educating_today
Newsletter/Email List: http://educatingtoday.com/prov31/